Maria Sharapova beats Kim Clijsters
Maria Sharapova
beat Kim Clijsters 6-4 6-2 in the semi finals of the Australian Open. The match lasted 82 minutes.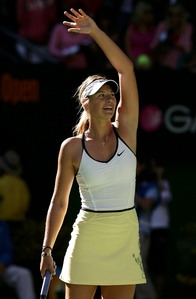 The first set started with the first two point on serve. Clijsters then got a break to go up 2-1. Then next two points were on serve but Sharapova got a break to even the set at 3-3. The next two point were breaks and
Maria
then held serve to go up 5-4. The top seed then got another break to take the set 6-4. The first set lasted 42 minutes.
The second set started with the Russian winning the first three games. The Belgian held serve to make it 3-1. The next three point were on serve and then Maria got a break to take the match. The set lasted 40 minutes. She said: "I am a little sad as Kim's such a great girl, and such a great champion on and off the court. She has a lot ahead of her in her off-court life and I think we all wish her the best." Maria will now play Serena Williams in the finals. Serena beat Nicole Vaidisova 7-6 6-4 to reach the finals.
Labels: Australia_Open-2007, Nicole_Vaidisova, Serena_Williams